---
Managing Gigabytes
Compressing and Indexing Documents and Images
Second Edition, 1999
---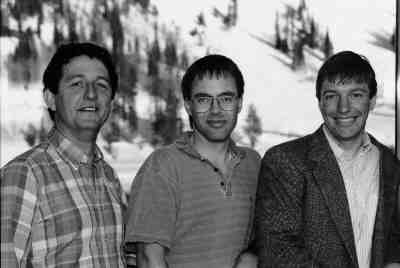 The second edition of Managing Gigabytes: Compressing and Indexing Documents and Images by Ian H. Witten, Alistair Moffat, and Timothy C. Bell, was published in May 1999 by Morgan Kaufmann Publishing, San Francisco (now a component of Elsevier Publishing), ISBN 1-55860-570-3.
Information available:
(Thanks to Art Pollard for the author photograph above).
---
Links to Other Information
The Arithmetic Coding routines mentioned in Chapter 2, and the compression programs char, word, and bits, are available from http://people.eng.unimelb.edu.au/ammoffat/arith_coder/.
Specifically interested in coding algorithms? Take a look at Compression and Coding Algorithms; that page also links to more software resources.
---
Alistair Moffat
ammoffat / unimelb.edu / au
7 May 1999, 1 July 1999, 10 August 1999, January 13, 2013

Mandatory disclaimer: This page, its content and style, are the responsibility of the author and do not necessarily represent the views, policies, or opinions of The University of Melbourne.