A History in Calculators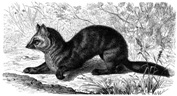 Justin Zobel
Sharp ZR-5000; Psion Series 5; HP Jornada 680

While packing for a house move, I found calculators in drawers, boxes, cupboards. Almost every calculator (or organiser) I'd ever owned. All of these were machines I'd had since they were new, carefully hoarded away over my entire lifetime ... just in case. These calculators reflect the evolution of the technology, from first emergence as a mass-market product to near-terminal decline; the calculator is almost obsolete now, but once was essential. So many calculators. Here they are.

A typical scientific calculator had 30 to 40 keys and a small screen. It's a small, obvious step to devices where the keys are alphabetic and the screen displays names and telephone numbers, or can step through a calendar: enter the digital organiser. Early models had 4 kilobytes or so of memory, enough for no more than a couple of hundred entries. They were less convenient than a pocket diary on paper. I had a small one in the early 1990s, perhaps the Sharp Memo Master ZQ-1200, but it was so inconvenient compared to paper that I didn't use it; I can't remember where it came from (a Christmas present?) or what happened to it. In terms of this collection, it is a gap, but not a significant one.
The first organiser I deliberately acquired was the Sharp Zaurus ZR-5000, in 1996. By then I had a laptop but it was over 3 kilograms. The power supply was another kilogram, and overseas could only be charged with a heavy country-specific power converter. What I wanted was something portable to write on. The Zaurus seemed like the perfect solution, with good battery life, flash card for backup, socket for connecting to a serial port, and built-in simple word processor. And all those other functions! Calculator, diary, clock, contact list.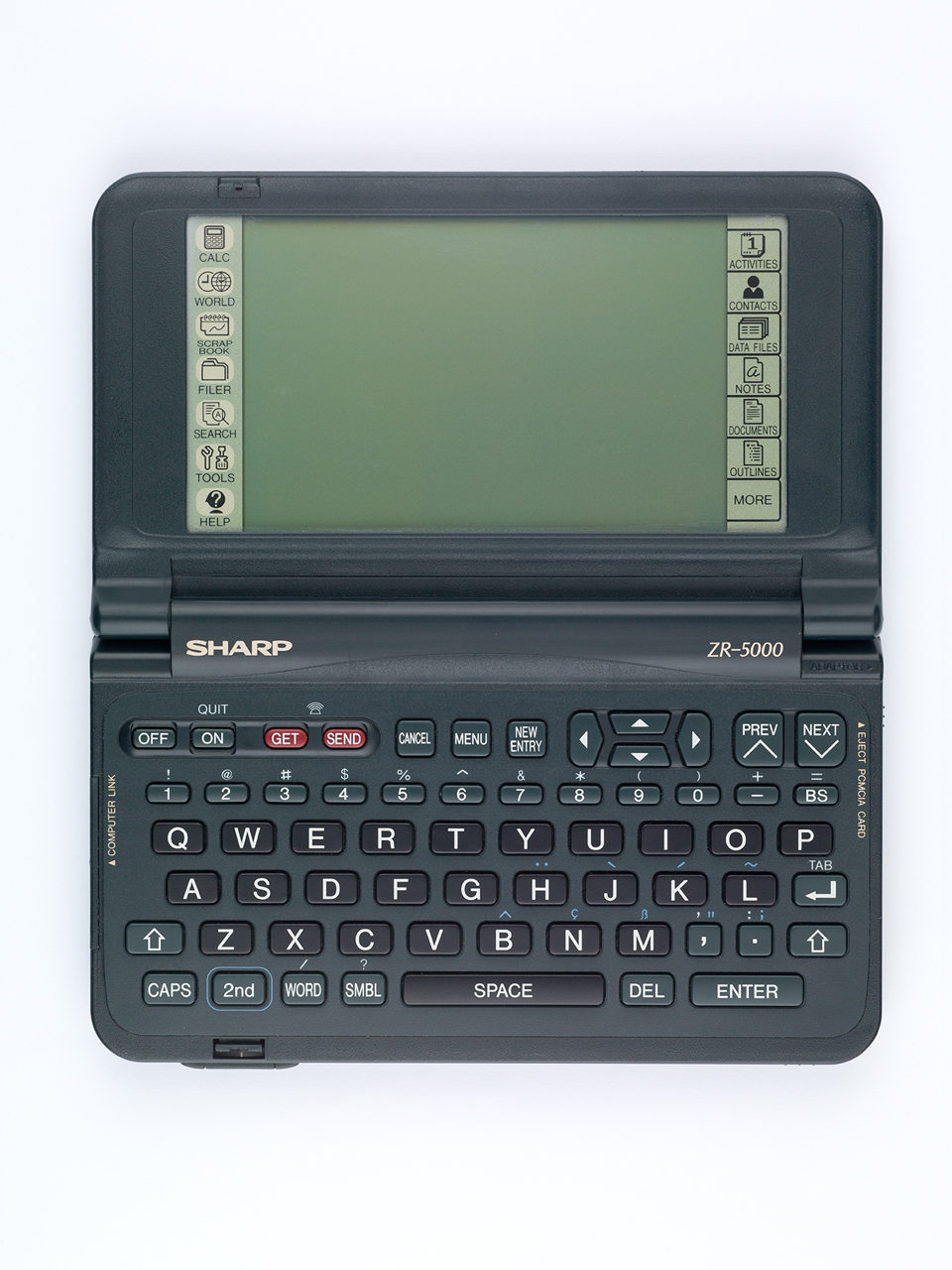 The Zaurus seemed innovative in many ways, but most important was the touch screen. I had heard of them but hadn't used one, and it seemed such a dramatic change in how a device was used. Most functions could be accessed from either keyboard or touch screen (stylus, not fingertip), though with inconsistencies; at that stage, manufacturers were only just discovering the possibilities of touch.
The case and build was reassuringly solid, with firm keys and a surprisingly clear display. (That generation of LCD display was dark grey on a lighter grey background. Some were backlit, or rather, sidelit, but this drained power and was not always helpful.) The calendar function was the first electronic diary I encountered that offered more functionality than a diary on paper, but was clunky; adding an entry involved negotiating a series of drop-downs with an awkward mix of keyboard and stylus. The drawing tools were toys that produced awful results but did point towards the future. The keys were calculator-style buttons rather than keyboard-style squares, and the keyboard was very small, but with practice I could touch-type at a decent speed.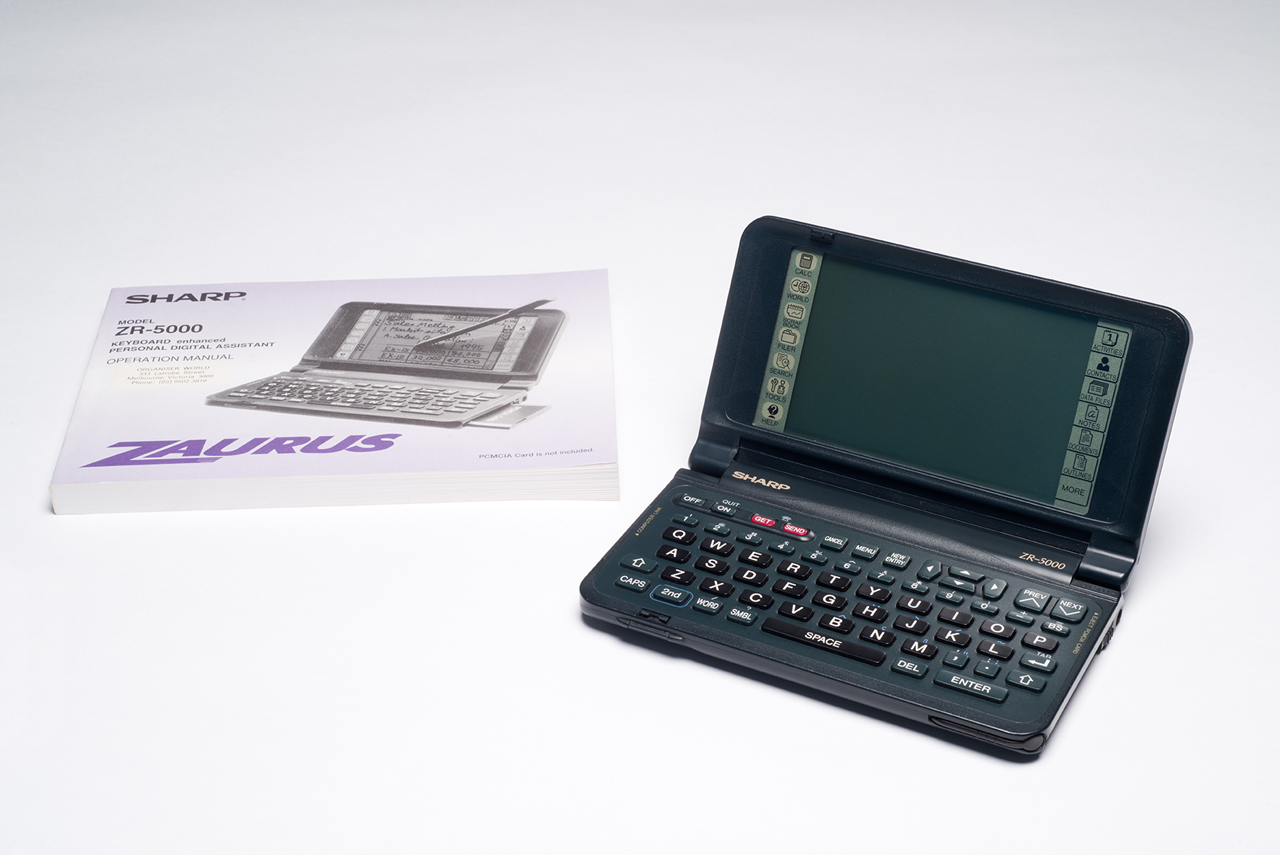 For a year or so the Zaurus travelled with me everywhere, including to conferences overseas, but for the main task I had bought it for ‐ writing ‐ it was useless. It couldn't keep up with my typing, even on that limited keyboard, and became slower as the document got longer; perhaps for the same reason, it would lose characters, and after closing and reopening sometimes whole blocks of text would be missing. It was useful for taking notes or keeping reminders, but otherwise was disappointing and I gradually stopped using it.

Psion had been building organisers since the start of the 1990s, but as far as I know they weren't widely available in Australia; or I simply wasn't aware of them. However, in 1997 a retailer persuaded me to try a Psion Series 5, and I bought it. In its use of windows, in the quality of the word processor, in general functionality and useability, it wasn't so different from early Apple Macs. It even included an excellent scientific calculator.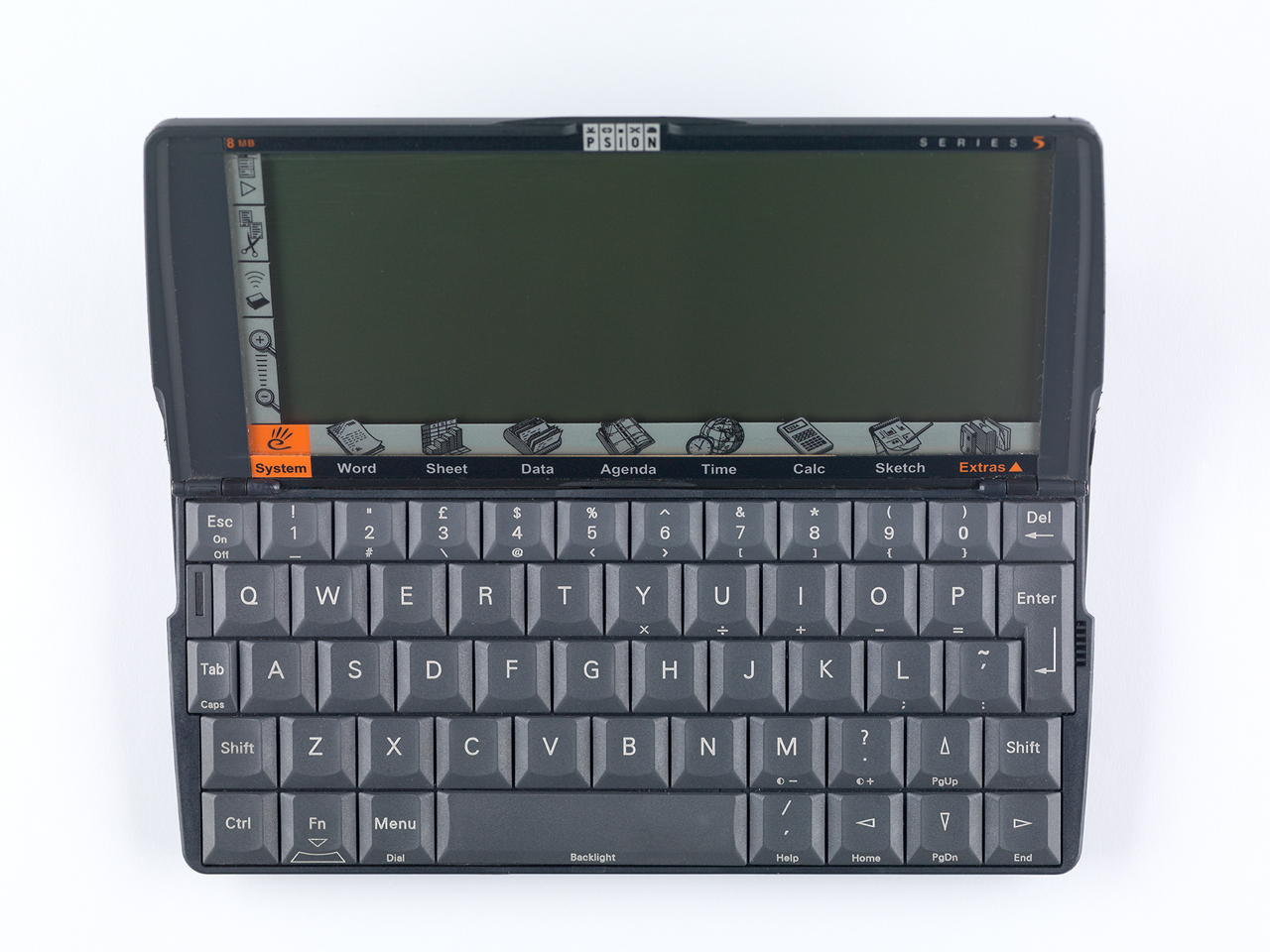 The Psion keyboard was a particular strong point, not too much smaller than a laptop keyboard and in terms of touch superior to typical models at that time. Except for the dull screen (later, when I saw other Psions, I realised that mine may have been faulty), it was a good laptop substitute. In a period when most hotels didn't yet offer Internet, so one didn't expect to browse or check email while travelling, the word processor, diary, and so on provided all that was needed. It comfortably fitted the inside pocket of my coat and the battery life wasn't a problem because it ran on rechargable double-As; nothing I've used since was quite as potent a combination of power and portability. This mobility was new and empowering! It gave me a freedom to work away from a desk that I hadn't experienced before.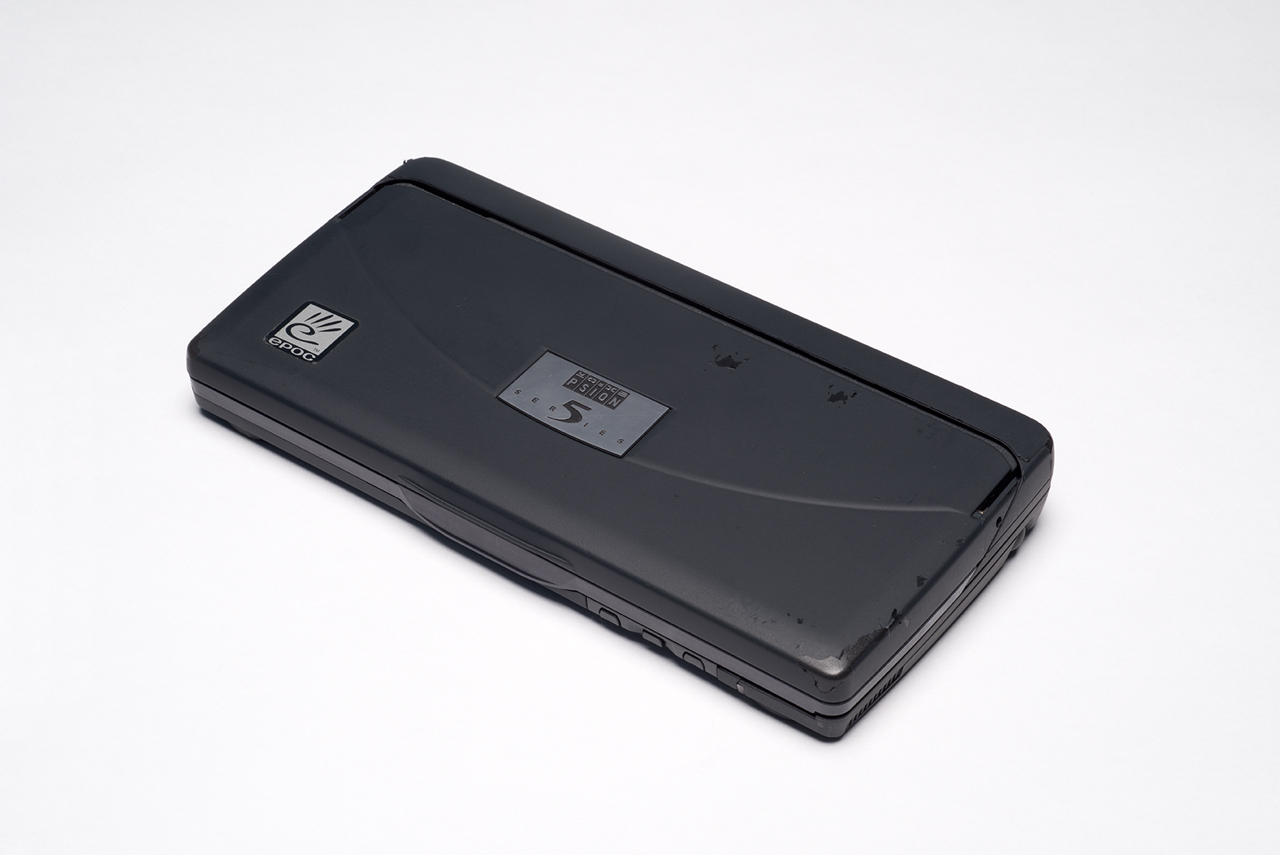 When I had had the Psion just a few months, I was caught in the rain on the way to work, and the Psion got damp ‐ not soaked, but wet enough, because it no longer worked. It was deemed irreparable, and became an office ornament.

The retailer who had sold me the Psion offered me a replacement, the HP Jornada 680, at cost, and I bought it in 1998. The Jornada was a significant step above the Psion: a vivid high-resolution colour screen; slightly larger keyboard, with an excellent feel; a precise stylus; fast, with a version of Office; a built-in modem; a terminal utility that let me log in remotely to university computers (though very clumsily); and a dock provided charging, a USB port, and a reliable connection to a desktop machine.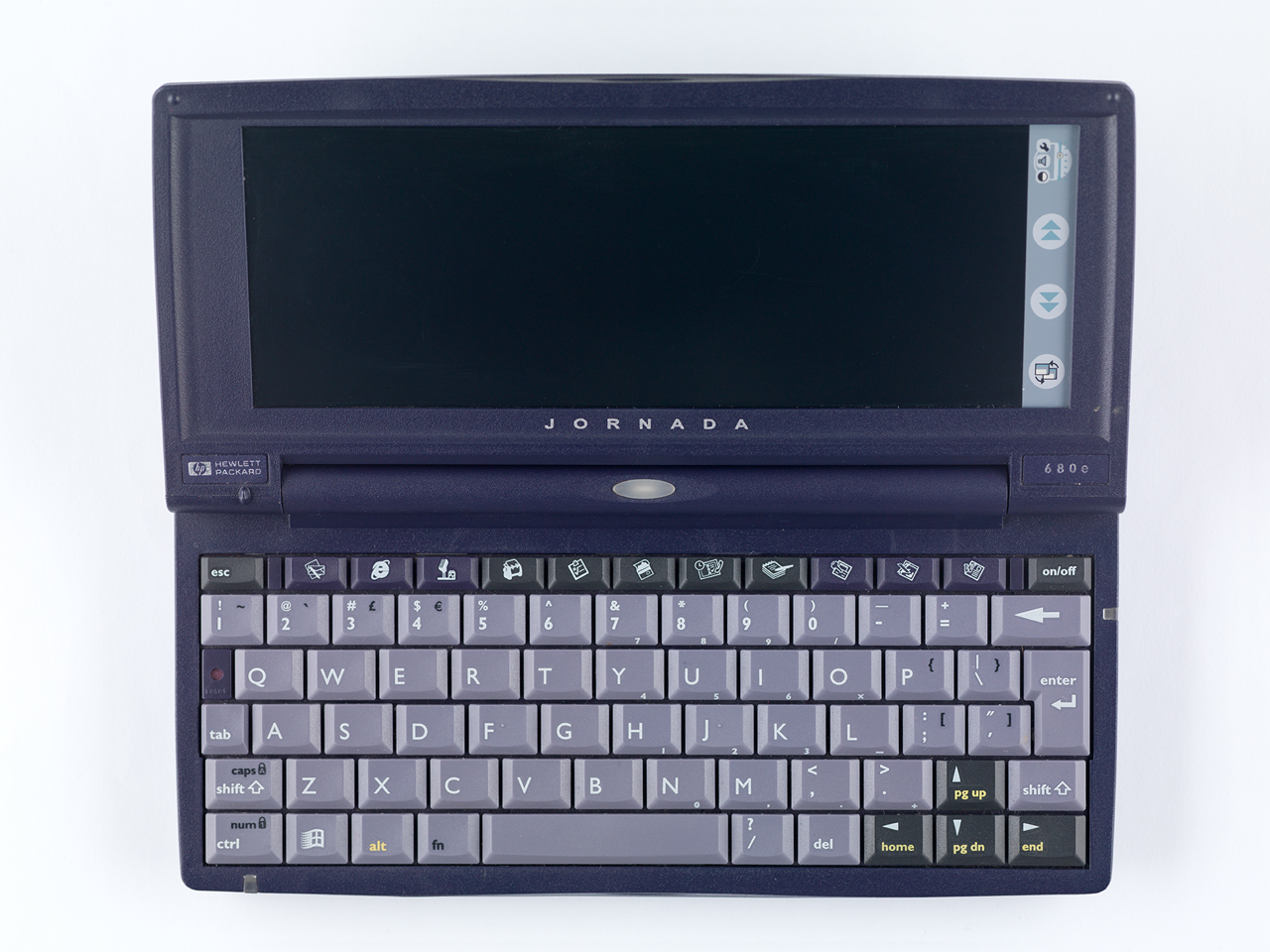 In that era, before lightweight laptops, the Jornada solved a lot of problems very well. The PCMCIA interface meant that data could easily be shared; this was before USB thumb drives. I wrote tens of thousands of words on this machine over the next five or six years or so. I acquired a laptop (through work) around the same time, but it was the Jornada that I took to and from work and on many trips. It wasn't quite pocketable, in contrast to the Psion, but at 600g or so it was very portable. At that time, laptops were dramatically underpowered (and unreliable) compared to desktop machines, so laptop owners usually had a desktop as well; for me, the Jornada was a better second machine than was a laptop.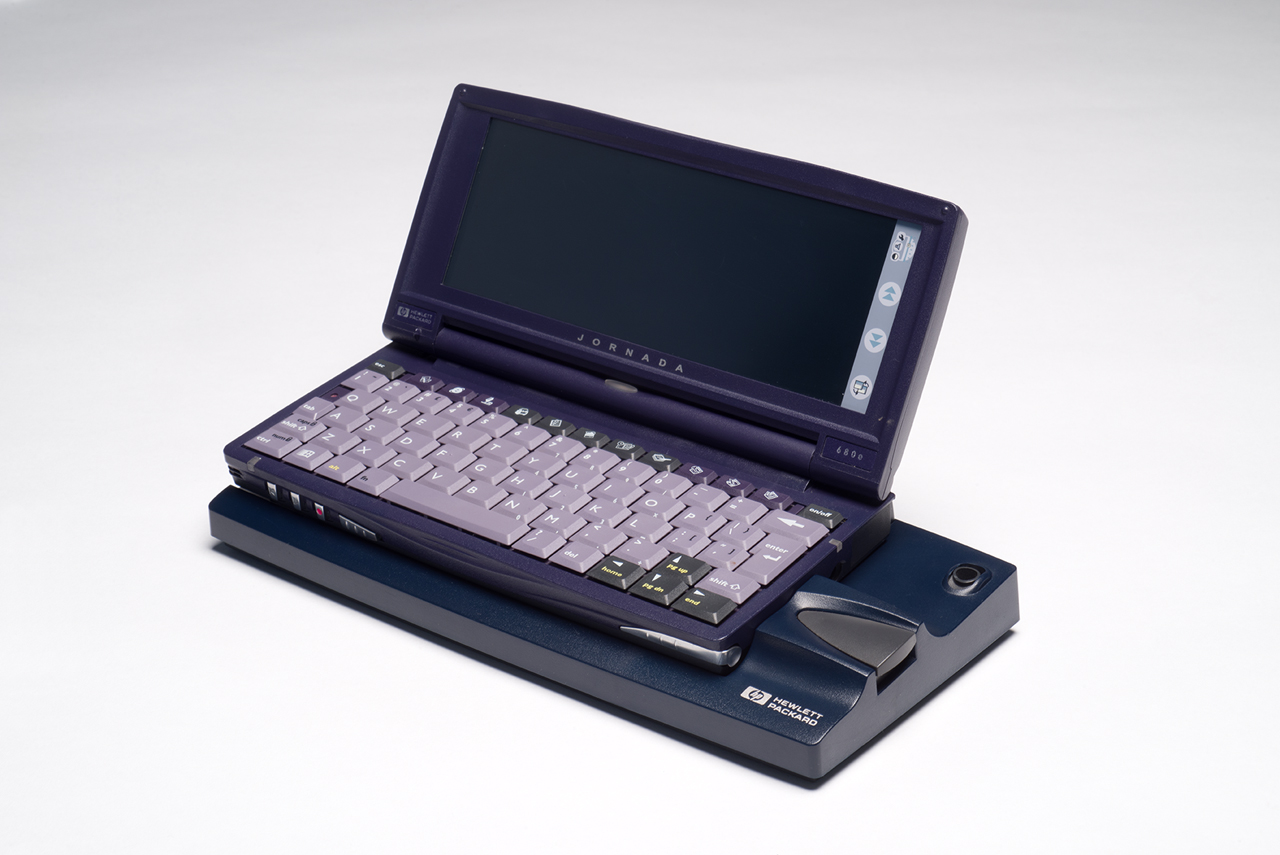 It was technology change that made the Jornada obsolete. The Jornada version of Office couldn't open more recent documents created on other platforms. Evolution in the Web meant that the browser became incompatible with newer pages. The appearance of lightweight laptops meant that the advantages of the Jornada were outweighed by its obsolesence, and in 2003 it too became an ornament. It was so robustly built that at retirement, after 5 years of use, it was pretty much as new.

Previous: Page 5. Next: Page 7.
Last updated July 2018.

This webpage was created by Justin Zobel. All images are Copyright© University of Melbourne. Photography by Lee McRae.